Joseph Osei-Owusu
Parliament has formed appointments committee.
The 26-Member appointments also referred to as the vetting committee, will be responsible for vetting new ministers and deputy ministers to be appointed by President Nana Akufo-Addo.
The Committee is being chaired by first deputy speaker of Parliament and MP for Bekwai, Joseph Osei-Owusu, Member of Parliament (MP) for Bekwai.
Haruna Iddrisu, National Democratic Congress Caucus Leader and MP for Tamale South is serving as ranking member on the committee.
The committee has 13 members from the NPP and independent MP caucus and 13 members from the NDC Caucus.
Below is the full list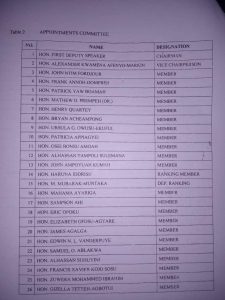 By Melvin Tarlue
Read Full Story