The Harriet Afriyie Foundation – Helping Hands over the Week cut sod for the construction of a public place of convenience to ease the problem of open defecation.
The Foundation also cut sod for the construction of a borehole to serve as source of portable drinking water to the predominantly fishing community of Abume in the Asuogyaman Constituency of the Eastern Region.
The two projects which is are estimated to cost over one hundred thousand Ghana cedis had the MP for Asuogyaman, Thomas Ampem Nyarko and Chiefs and people of the community present at the official sod-cutting ceremony.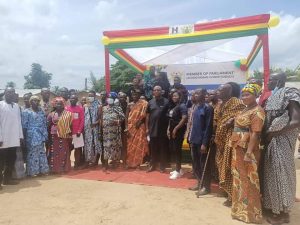 The Member of Parliament for Asuogyaman Constituency declared Abume which is a suburb of Akosombo as one of his top priority communities to develop in his second term.
He said, he believes the obstacles placed by the NPP government in the past which was to evacuate the people has dragged the social development of the community behind. That obstacle has been removed and that he will push for more resources for the people of Abume.
He however pleaded with the people to develop a good maintainance culture, make good use of the facilities once they are completed.
"Not to put so much pressure on the facilities especially the toilet,"I will encourage individuals who wish to have their own toilet facilities in their homes to approach me and I am ready to support them with Cements and Roofing Sheets", he said in addition.
On her part, the CEO of Harriet Afriyie Foundation, Harriet Afriyie, thanked the people of Abume for their warm welcome but quickly added that she and her team will be more delighted to come back in few years time to meet the facilities in good condition and that, that will be their only motivation to extend a helping hand of such facilities to other communities in Asuogyaman.
Torgbe Dusornu I, Chief of Abume speaking through his secretary thanked the Member of Parliament, Hon. Thomas Ampem and the CEO of Harriet Afriyie foundation for the project. He also assured them of his community's readiness to make sure the facilities are well maintained once completed.
The projects are expected to be ready for commissioning and use before the end of the year.
Read Full Story