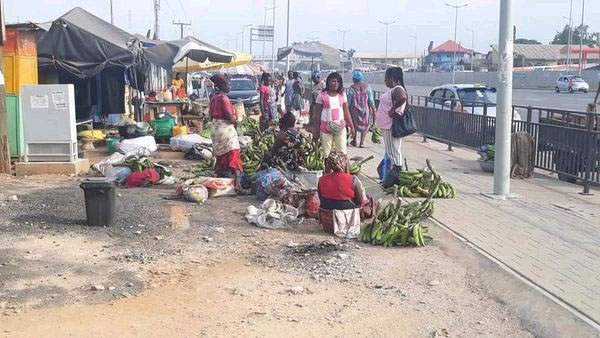 The objectives for which government coughed out so much to construct a four-tier interchange at Pokuase are being missed.
The story about two lanes of the lower level being usurped by plantain and cassava sellers and trotro drivers is unacceptable.
Indiscipline is getting out of hands otherwise this impunity would not be taking place on this brand new road in clear view of us all.
We commend the Greater Accra Regional Minister Henry Quartey who swiftly dispatched a rapid response team to the scene to restore normalcy.
We are worried however that the solution does not lie in knee-jeck reactions but rather consistently policing the location throughout the week for a year or so.
The traders and commercial vehicles will return and eventually entrench themselves there where policing of the place is relaxed.
The filth will soon pile up when at the end of the day the hawkers retire to their various homes and expect the state to 'fix it.'
When the commercial vehicles some of them in various stages of malfunctioning start dropping engine oil on the asphalt road this will started developing potholes. Resorting to the public purse to fix a compromised road because of bad attitudes is unacceptable.
We can stop the nonsense now when we all show interest in addressing our poor attitude to public properties.
Stubbornness on the part of the drivers and the hawkers should be sanctioned by the application of the relevant bylaws.
Public disdain was not in short supply when the report about the invasion of the road by the hawkers and even MOMO vendors was posted on social media.
In other jurisdictions the public out of patriotism will move to reprimand the defaulting hawkers.
Fortunately the regional minister is one who is not apprehensive of addressing situations such as this but he still needs our support in various forms.  After all he ejected onion sellers from Agbogbloshie the threats of black magic notwithstanding.
It behooves all citizens to ensure that the integrity of the Pokuase interchange is not compromised.
In our commentary even before the commissioning of the project we foresaw this eyesore coming and asked the authorities not to allow it.
A highway of this magnitude and status should not be degraded by acts of indiscipline by plantain sellers and trotro drivers.
Since the MCE for the jurisdiction has passed on and the municipality in which the interchange falls is now orphaned the regional minister and the coordinating council take up the enforcement of the relevant bylaws on the interchange.
We think that the regional minister can engage engineers to fashion out a means of making it impossible for commercial vehicles to park there and for hawkers to sell their wares on the interchange.
Allowing indiscipline to shorten the lifespan of the interchange will be morally iniquitous and should not be countenanced under any circumstance.
Read Full Story