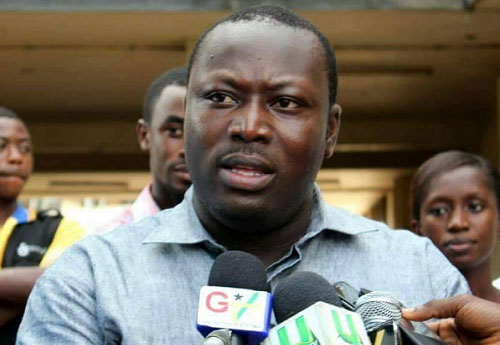 Opare Addo
The Sixteen Regional Youth Organisers of the opposition National Democratic Congress (NDC) have descended heavily on the loud mouth NDC presenter, Kevin Ekow Taylor for attacking their National Youth Organiser, Lawyer George Opare Addo over some cars he allegedly rejected.
The youth organisers have also been explaining the circumstances leading to the rejection of some 16 vehicles donated to them by the 2020 flagbearer, ahead of the 2020 elections.
Kevin Taylor as gathered on one of his shows alleged that Mr Opare Addo was a chief instigator of a mass rejection of vehicles that were offered by the defeated flagbearer of the NDC, John Dramani Mahama, to the youth wing ahead of the 2020 election.
The NDC youth organisers who aren't happy with the allegations against their boss, in a statement rubbished the claims by Kelvin Taylor saying "Without mincing words, this claim is an unblemished untruth cooked in a dilapidated kitchen of mischief and served on the cracked plate of falsehood".
According to them, they cannot be discarded or lured into any agenda that turns against the ideals of the NDC and the flagbearer as suggested by Kevin Taylor.
They noted that they are independent and can see through the deceit of Kevin Taylor to cause disaffection among them and the NDC.
They explained that the decision to reject the vehicle was a collective decision taken by the 16 Regional Youth Organisers without the involvement of Mr Opare Addo popularly called Pablo as the said vehicles were fuel guzzlers which may not serve their purpose.
"It is an affront to our intelligence for any person to suggest that it was Pablo [George Opare Addo] who instigated us to reject the vehicles. All 16 Regional Youth Organisers are independent-minded individuals with different orientations when it comes to making decisions. No decision has been taken by the Caucus without subjecting it to checkmate decisions."
DGN Online has gathered that these vehicles that were to be gifted to the 16 Regional Youth Organisers, the Caucus stated that it was by the effort of the National Youth Organiser, George Opare Addo that they got wind about it, adding that two of the vehicles were shown to them for demonstration purposes so they could believe it was theirs for the taking.
The Youth wing claimed that the make of the car and the cost of operation could be a burden on them and decided to turn down the offer on the blind side of Pablo.
In a statement, they then suggested having a letter issued to the National Chairman and the flagbearer to explain their decision and also hope for a change of the vehicles to fit their 'budget'.
The statement concluded that at the time, Mr George Opare Addo had made available five pickup vehicles for some Regional Youth Organisers and promised to get the remainder in due time so they could conduct their business for the political season.
Below is a copy of the release.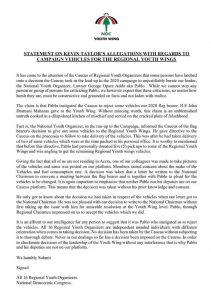 BY Daniel Bampoe
Read Full Story