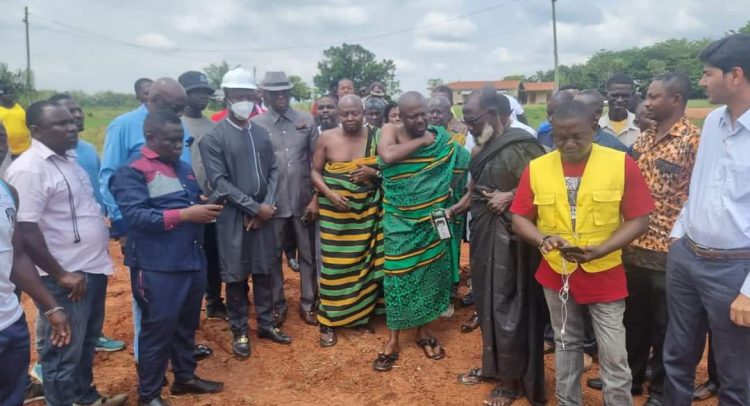 The Akufo-Addo led government has finally started the construction work for the Boankra Inland Port project in the Ejisu Constituency of the Ashanti Region.
The project was abandoned for about two decades, which the residents threatened to embark on a demonstration.
The Deputy Minister of Finance and Member of Parliament for the area, Dr. John Ampomtuah Kumah on Monday led the Chiefs, and residents to the site to witness the commencement of work on the construction of the Boankra Inland Port.
The contractor assured the residents that he will work studiously with his team to deliver the proposed Boankra Inland port to Ejisu, Asanteman and the country as a whole within the next two years.
Dr. Kumah, expressed gratitude to President Akufo-Addo, the Asantehene Otumfuo Osei Tutu II, Transport Minister, and all stakeholders who have been pivotal in bringing this far in the bid to ensure that the Boankra Inland Port is brought to life.
"As I have indicated on several platforms, when it comes to the construction of the Boankra Inland Port, I am a die-hard Activist and will not rest until this port is built to create jobs and opportunities for Ghanaians," Dr. Kumah noted.
Parliament in 2020 approved the government's new concession agreement with Ashanti Ports Services Limited, a consortium of Afum Quality Limited Ghana and DSS Associates of South Korea for an amount up to $330 million for the development of the Boankra Integrated Logistics Terminal (inland port) in the Ashanti Region.
The government initiated the Ghana Trade and Investment Gateway programme (GHATIG) aimed at rapid socioeconomic growth.
The government said it wanted to transform Ghana into a major manufacturing, processing and multi-model transportation hub in the sub-region.
The Ministry of Transport (MOT) acting through its agencies namely the Ghana Shipper's Authority (GSA) and the Ghana Ports and Harbours Authority (GPHA) initiated in 1990 the Boankra Integrated Logistics Terminal (BILT) in the Ejisu Municipality, near Kumasi, to create an Inland Dry Port as an extension to the Tema Port.
With the Build Operate and Transfer (BOT) concession agreement approved, the project is set to commence and they intend to attract private businesses to the area and develop it as an industrial/commercial estate to serve the Maritime Business Community.
The project as gathered would be completed within two years.
-BY Daniel Bampoe
Read Full Story