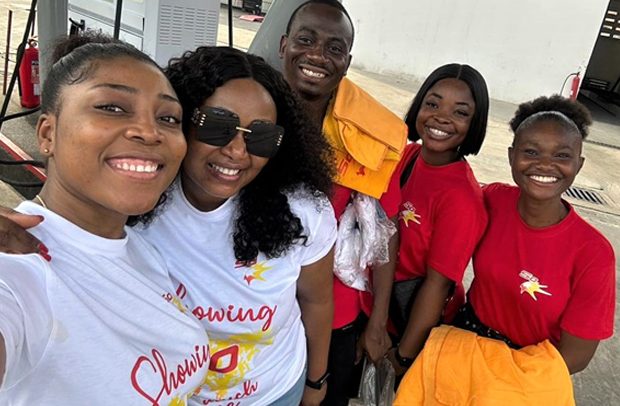 So Energy Staff at the Customer  Appreciation Day
Leading oil and gas marketing company in Ghana, So Energy Limited, has reiterated its commitment to giving more customers access to top-notch customer experience through strategic retail expansion and exceptional fuel solutions.
A Sahara Group Company, So Energy currently has 12 branded retail outlets, widely acclaimed for their imposing designs, spacious service points, modern supermarkets, transparent product dispensing, and maintenance advisory services.
Speaking during the company's Customer Appreciation event at some of its stations in Accra, Yvette Selormey, Managing Director, So Energy, said the firm was delighted at being the preferred choice of Ghanaians for fuel solutions.
Ms. Selormey said So Energy was currently exploring establishment of more outlets to meet growing demand across Ghana.
"We will continue to celebrate our customers for the opportunity to serve and give the good people of Ghana more stations to enjoy what we call the So Much More experience," she said.
Selormey led other senior management staff and employees of So Energy to serve customers at the company's Ring Road, Alajo and Adabraka outlets in Accra. The team gave out branded t-shirts, dusters, key chains, food packs, cakes, and chocolates, among others.
"We have received important first-hand feedback from our customers which will further drive our unwavering quest for exceeding the expectations of our customers. We are driven to do even much more as the feedback has been a resounding commendation and endorsement of So Energy's operations. I also want to applaud the team for their dedication to making a difference," she added.
Recently, the company provided solar powered street bulbs to the 37 Military Hospital, Accra, in keeping with its commitment to promoting clean energy and environmental sustainability in Ghana.
The donations were made expressly for the hospital's maternity ward, motor transport yard and Quarter master yard. The project is already beneficial to all the patients, doctors, nurses and all other staff of the maternity ward, quarter master yard and motor transport yard of the 37 Military Hospital.
Read Full Story