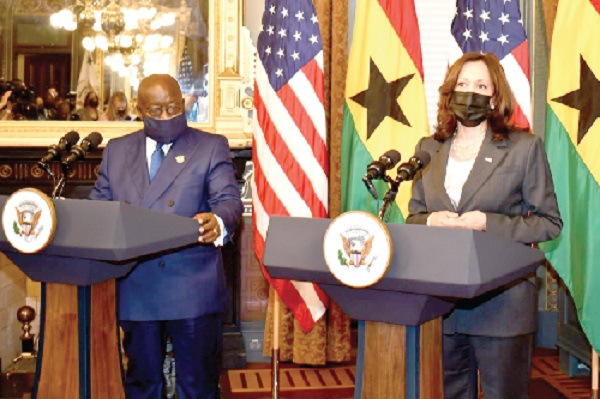 President NanaAkufo-Addo with Kamala Harris
Vice President of the United Statss of America (USA) Kamala Harris and Second Gentleman Dougas Emhoff will be visiting Ghana from Saturday, March 25, 2023 to embark on a three-nation tour of Africa.
The tour will begin with a visit to Ghana before successive trips to Tanzania and Zambia.
"The Vice President's visit will build on the recent U.S.-Africa Leaders Summit that President [Joe] Biden hosted in Washington in December 2022," a statement issued by the White House under the hand of the Press Secretary Kirsten Allen said on Monday, March 13.
The statement further indicated that the trip "will strengthen the United States' partnerships throughout Africa and advance our shared efforts on security and economic prosperity".
In Ghana, Vice President Kamala Harris is expected to meet President Nana Addo Dankwa Akufo-Addo, Dr Mahamudu Bawumia, Vice President of Ghana and other government officials.
The trip will afford her opportunity to discuss regional and global priorities with the officials. Among these priorities are democracy, sustainable economic growth, food security and the effects of the Russia-Ukraine war.
"The Vice President will strengthen people-to-people ties and engage with civil society, including young leaders, business representatives, entrepreneurs, and members of the African Diaspora."
She will conclude her visit on Sunday, April 2.
By Vincent Kubi
Read Full Story