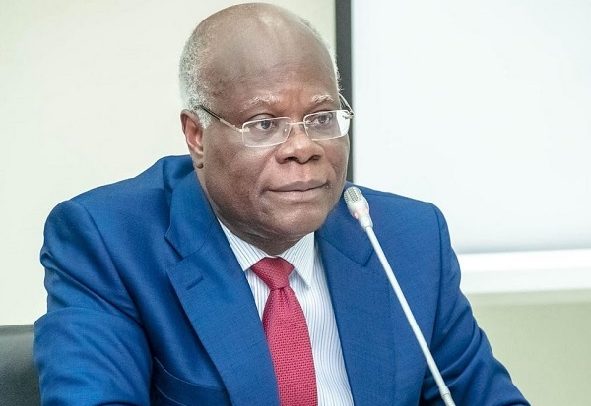 KT Hammond
Parliament has approved all the six ministerial nominees of President Nana Addo Dankwa Akufo-Addo after initial confusion in the Chamber by the two caucuses.
The approval means that the MP for Adansi Asokwa, K.T Hammond will fully become the Minister of Trade and Industry with MP for Nhyiaeso, Dr. Stephen Amoah becoming his deputy.
Also, Bryan Acheampong, Minister for Food and Agriculture, Stephen Asamoah Boateng, Minister for Chieftaincy and Religious Affairs, Osei Bonsu Amoah, Minister of State at the Ministry of Local Government, Decentralisation and Rural Development and Dr Mohammed Amin Adam, Minister of State at the Ministry of Finance.
This is after they have been sworn into office by the President Nana Addo Dankwa Akufo-Addo.
The Appointments Committee could not reach a consensus in recommending the approval of the nominees compelling the House to vote to decide their fate.
Announcing the results after the vote on Friday March 24, the Speaker of Parliament, Alban S.K. Bagbin mentioned that "Honourable Members, at long last collation of votes has ended. The register of 275 eligible voters, 3 voters were absent so 272 did exercise their franchise. The results of the voting are as follows; Honorable KT Hammond 154 Yes, 116 No, rejected 1; Bryan Acheampong, 167 Yes, 98 No, rejected 4, abstention 3. Stepehn Asamoah Boateng 147 Yes, 122 No and 3 abstention. Mohammed Amin Adams 152 Yes, 117 No, rejected 1, abstention 2. Osei Bonsu Amoah 149 Yes, 120 No, abstention 3 and Stepehen Amoah 146 yes, 123 no, 3 absention."
He added that "The House has accordingly approved the nominations of the following persons as ministers and a deputy minister in accordance with 79(1) of the constitution."
This was after heated exchanges regarding the report of the Appointments Committee on the recent vetting of the nominees.
Prior to the approval, confusion broke out in the House which led to the suspension of sitting by the Speaker as a result of the failure of both sides to agree on how to vote for the approval of two Supreme Court Justices, Ministers and deputy ministers nominated by President Akufo-Addo.
When the Speaker began proceedings, the Majority opposed to the secret voting and wanted the ballot boxes to be placed opposite the caucuses so that no member shows their votes to colleagues.
The Minority, however, rejected this, calling for secret voting immediately.
Furtherance, while the Majority members of the Committee have resolved to approve the Supreme Court Justices and the Ministers concurrently, the Minority however said voting and counting be done separately.
This compelled the Speaker to adjourn sitting to confer with leadership of the House.
By Vincent Kubi
Read Full Story