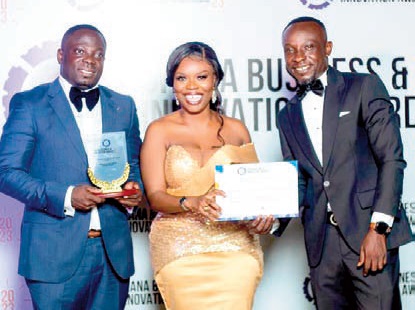 Eric Amofa (left) and Deloris Frimpong Manso with the award
Safare Tissue, produced by Seabeige Ghana Limited, a wholly owned Ghanaian company has been adjudged the Fastest Growing Tissue Brand of the year, less than a year after hitting the Ghanaian market.
The product that boasts of quality and affordability was recognized at the Ghana Business & Innovation Awards held at the Movenpick Ambassador Hotel, Accra on Friday April 14, 2023.
Organisers of the event revealed that companies and individuals selected for the Awards were evaluated and graded by the Awards' Research Board, through an independent survey using engagement methodologies
The areas considered for the awards include; quality, innovation, market dominance, business resilience, customer loyalty & corporate responsibility and industry merits.
For their award, Safare Tissues received a citation and a Plaque with the Brand Ambassador, Deloris Frimpong Manso, and the Managing Director Eric Amofa in attendance.
Speaking with the media shortly after the awards, Mr. Amofa highlighted the significance for the government to consider giving tax holidays for Ghanaian companies in order to develop the tissue industry.
According to him, it is the vision of his company to ensure that the industry is sustained but that can only be done if the government supports with tax incentives.
"If you look at the rate of taxes, there is the need for reduction in order to help us. Safare is 100 per cent Ghanaian owned and we are not under any government incentives. We are determined to bring a lot of transformation into the tissue industry and would therefore wish the government reduces the taxes especially for Ghanaian owned companies. This way, we would be able to progress and employ a lot of the unemployed youth", he said.
Safare Tissues are a wide range of quality, soft and highly absorbent virgin tissue products made from the finest and most hygienic tissue materials.
The quality and beautifully packaged SAFARE products represent the new experience in the world of tissues on the Ghanaian market.
Safare products include toilet rolls, paper towels, table napkins, facial box tissue, pocket tissue and other related products.
A Daily Guide Report
Read Full Story