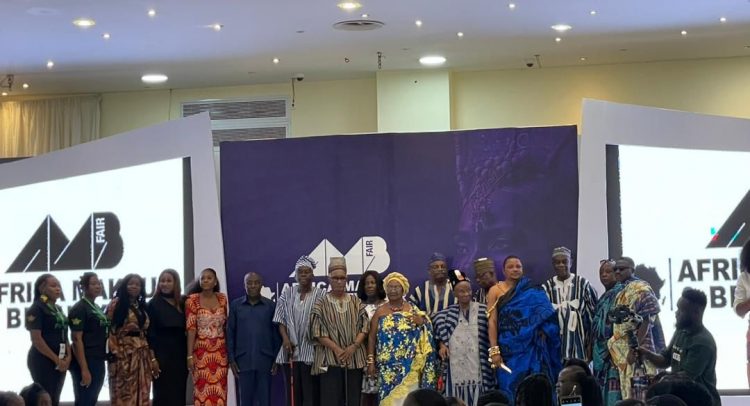 Accra witnessed a glamorous and vibrant gathering as the 2023 Africa Make-Up & Beauty Fair (AMB Fair) ended its two-day extravaganza on September 21 and 22.
Held at The Avenue, Unique Floral Events Centre in Tse-Addo, under the theme "Brands Beyond Borders: The Beacon of Economic Growth."
It was organized by Make-Up Ghana and First Choice Hair and brought together a diverse array of key stakeholders in the beauty industry from across the African continent.
The event served as a nexus for brand owners, manufacturers, wholesalers, and retailers of beauty products, fashion designers, beauty professionals, practitioners, traders, consumers, publicists, students, regulators, policymakers, beauty schools, and various other industry players.
It was not only a platform for networking but also a bustling marketplace, offering irresistible discounts on beauty products from both African and global brands spanning makeup, skincare, hair, nails, fashion, spa, and wellness services.
Beyond shopping, the AMB Fair offered a rich program of activities, including captivating beauty and fashion shows, live product demonstrations, a beauty business summit, enlightening panel discussions, and educational seminars, among other attractions.
The fair commenced with the Beauty & Entrepreneurship Summit, where esteemed speakers hailed the remarkable progress of the beauty industry in Africa.
Rebecca Donkor, the founder of AMB Fair, reflected on the event's seven-year journey, tracing its origins to a dream of fostering unity and opportunity within the beauty sector.
She emphasized the fair's role in providing a platform for industry players to showcase their products, learn, and collectively prosper.
Donkor proudly announced the fair's growing international appeal, with brands and exhibitors from countries like Togo, Nigeria, Benin, and others joining in the exhibition.
She extended an enthusiastic invitation to all beauty enthusiasts, urging Ghanaians not to miss out on the opportunity to explore the world of fashion, wellness, makeup, skincare, and beauty at The Avenue in Tsado.
In addition to shopping and networking, attendees had the chance to attend Masterclass sessions, covering topics such as branding and Artificial Intelligence (AI) in the beauty industry, providing valuable insights into the future of beauty.
The event also received the endorsement of Prof. Edmund Delle, the Paramount Chief of the Nandom Traditional Area in the Upper West Region. Prof. Delle underscored the importance of caring for the skin, highlighting that it is the body's largest organ.
He encouraged all stakeholders to infuse an African essence into their works and appearances, celebrating the intrinsic beauty of black skin.
As the curtains closed on the 2023 Africa Make-Up & Beauty Fair, it left behind not only beautiful memories but also a renewed commitment to elevating the beauty industry across the continent and embracing the diverse and vibrant beauty that Africa represents.
By Francis Addo
Read Full Story