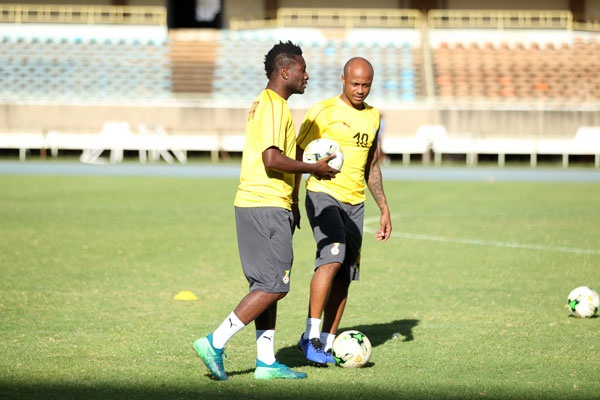 Ghanaian football star Asamoah Gyan has shed more light on his relationship with Andre Ayew.
Rumors of a fallout between the two have been loud on media platforms and crescendoed after former Black Stars Coach James Kwesi Appiah awarded the captaincy to Andre Ayew at Gyan's expense.
Gyan has however quelled such rumors insisting that it is just people imagining what doesn't exist.
According to Gyan, he doesn't have a problem with the current Black Stars captain.
He, however, disclosed that he doesn't know if perhaps Andre has a problem with him behind the scenes.
"No I don't have any problem with Andre, I think people (outside) created that impression sometimes we even laugh about it," he told TV3 Sports.
"In life, you don't know people's mind, I might talk to you right now but I might not like you but I have to talk to you"
"I see what is in front of me I don't see what is behind me. For me what I see in Andre, I don't have any problem…but behind I don't know (what he thinks of me) behind "
"Behind he doesn't know what I also have behind…But from what I see, he is a positive guy, who knows his job, who is very passionate about his job, who laughs, who motivates people. That is the Andre I know", he concluded.
Read Full Story