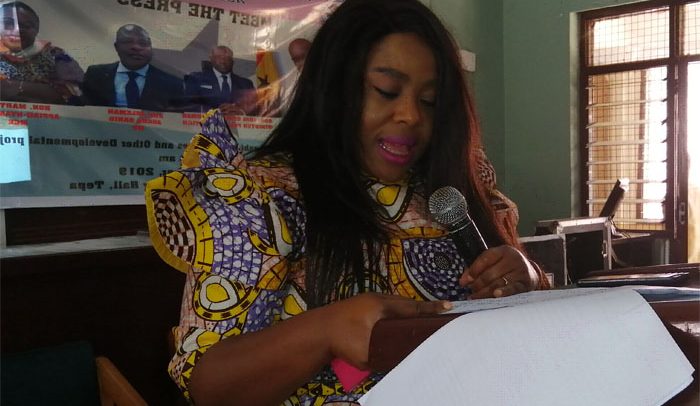 Martina Appiah Nyantekye
The Ahafo Ano North Municipal Assembly in the Ashanti Region has been selected by the Ministry of Local Government and Rural Development as one of the 80 districts nationwide as beneficiary of the Ghana Productive Safety Net Project.
The Municipal Chief Executive (MCE) of the Ahafo Ano North Municipal Assembly, Mrs. Martina Appiah Nyantekye, announced this during the maiden meet-the-press series organised by the assembly and the municipal office of the Information Services Department (ISD) at Tepa.
According to the MCE, the objectives of the project include supporting government to strengthen safety net systems that improve the productivity of the poor and also to improve the agricultural productivity of extremely poor households by facilitating linkages to existing agricultural interventions.
The components of the projects include Labour Intensive Public Works (LIPW) consisting of rehabilitation of feeder roads and climate change activities. They are to be implemented primarily during the off-season when farmers are less engaged.
The total allocation to the municipality under the project is GH¢1,658,386.80 for a period of three years.
The projects earmarked to be undertaken in the municipality for the next three years include the rehabilitation of 2km Sunoroso–Okyerekrom feeder roads, establishment of 25ha oil palm plantation and nursery at Okyerekrom, Akrofoso, Twabidi-Beposo, Betiako and Kruboa, raising of 8,000 seedlings to support PERD and procurement of 200 bags of rice and 300 bags of NPK to support the special rice initiative in the municipality.
From Ernest Kofi Offen, ISD,Tepa
Read Full Story