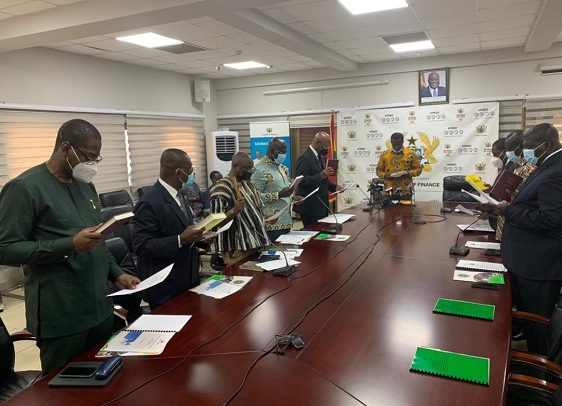 GOVERNMENT has inaugurated a new governing board for the National Pensions Regulatory Authority (NPRA) in Accra.
At a brief inaugural ceremony held at the Ministry of Finance conference room, Minister for Employment and Labour Relations, Ignatius Baffour-Awuah administered the oaths of office and secrecy to members of the new board.
Shortly after swearing them into office, Mr. Baffour-Awuah said it was "gratifying" to see the caliber of persons on the board, describing them as "distinguished people in their respective fields."
He charged them to make conscious efforts in creating massive awareness on pension and its related issues among all levels of the citizenry saying, "I will expect a high degree of professional work ethics and expertise to be implemented at the NPRA."
"I want issues of pensions to pre-occupy the discussions of all persons. I want you to make pension one of the main issues discussed at various places. Greater majority of our working people operate outside the pension scheme and so my charge to you is that as much as possible, make issues of pensions a daily discussion," he stressed.
While urging them to apply speed in their activities, especially in enrolling other labour groupings such as the drivers' unions etc. onto various pension schemes as is being done for cocoa farmers, the Employment Minister also tasked them to "be fast in your decision making in implementing the necessary strategies so that business will not unnecessarily delay."
On his part, Minister for Finance, Ken Ofori-Atta urged the new board to bring in new pragmatic ideas to help the authority implement its five-year plan starting from 2022.
"We have a responsibility. Our focus must remain on creating adequate systems that ensure consumer protection that facilitates quick lump sum payments. Your responsibility is to ensure that the future of our people is protected," he iterated.
Speaking on behalf of his colleagues, Chairman for the new NPRA board, Paul Simon Koranteng assured that "the NPRA will be safe and sound under our watch," adding that, "it is our duty to build on the past successes to push the authority to higher heights."
He underscored that priority would be to strengthen the authority in various fronts, especially as there was an urgent need to provide a steady and speedy growth of Ghana's pensions scheme.
By Nii Adjei Mensahfio
Read Full Story