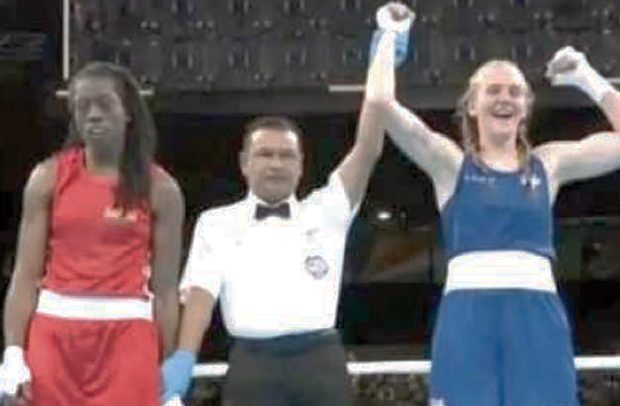 Ornella Sathoud (L) looking disappointed as England's Kerry Davis is declared winner in their boxing bout
GHANA'S HOPE of landing a medal in female boxing at the Commonwealth Games has been crashed.
The only Ghanaian female boxer in the competition, Ornella Sathoud, was overwhelmed by her competitor.
England's Kerry Davis unleashed successive fast and powerful punches, which got Ornella confused.
The Ghanaian boxer, who was determined to make a mark, intermittently displayed moments of brilliance.
But despite her braveness, Davis stood firm and composed as she controlled the Middleweight Division (75kg) bout.
Davis eventually carried the day as she deservedly defeated the US-based Ghanaian boxer by 3-2 to proceed to the next stage.
Ornella's defeat has come as a big blow to Team Ghana, who had high hopes of, at least, picking a medal in the female boxing category.
FROM I.F. Joe Awuah Jnr., Birmingham, United Kingdom
Read Full Story