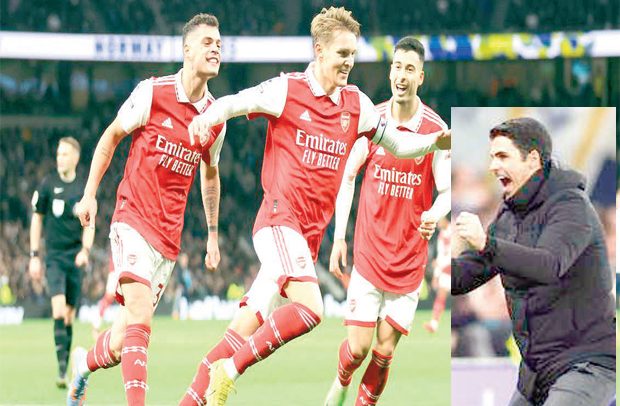 Martin Odegaard celebrates after scoring against Tottenham. INSET: Mikel Arteta
Arsenal (Gunners) fans still celebrate in song the glory years when they enjoyed title victory on enemy territory at Tottenham in the double-winning year of 1971 and again under Arsene Wenger in 2004.
And Arsenal supporters of a different vintage were singing again after an outstanding, mature display in a 2-0 win at Spurs gave them a formidable eight-point advantage at the Premier League summit.
Mikel Arteta's Arsenal are still a very long way from being named champions and this win came at a different arena than the old White Hart Lane, but if they do not believe they can win the title again after this latest victory then they never will.
The eye was briefly taken away from the conclusion of this triumph by a flare-up between Spurs substitute Richarlison and Arsenal goalkeeper Aaron Ramsdale, who was then kicked by a home supporter.
When temperatures cooled, Arteta took his players, including Ramsdale, away from the melee to run the length of the field to celebrate with Arsenal's ecstatic fans in the far corner of the stadium.
In control of the title race and the north London derby double secured in style, they have been the Premier League's best team over these first 18 games and fully deserve to be in such a powerful position.
And if Arsenal have put together anything more impressive this season than the first 45 minutes, as they completely outclassed Spurs on the way to winning a derby away from Emirates Stadium for the first time since March 2014, it must have been one special show.
Arsenal arrived at Spurs in the knowledge that a win would not only end that barren sequence but give them that big lead over Manchester City. It would have brought a sense of excitement but also pressure.
Yet if Arsenal's players felt any pressure they made light of it in a magnificent first half, when an own goal by Spurs goalkeeper Hugo Lloris and Martin Odegaard's low shot gave them a 2-0 lead that was less than their supremacy deserved.
There is still more than half the Premier League season to go and much can happen – but with reigning champions City not quite themselves, Liverpool having a nightmare, Chelsea in chaotic transition and Manchester United rebuilding, Arsenal have a huge chance to win their first Premier League title since "The Invincibles" season of 2003-04.
Read Full Story