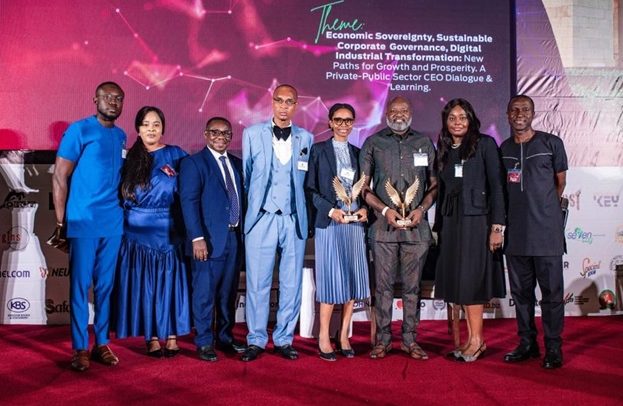 The NPA Team with the awards
The Chief Executive of the National Petroleum Authority (NPA), Dr. Mustapha Abdul-Hamid, has received the Outstanding Public Sector Leadership Award for the Year 2022 at the Ghana CEO Summit.
He was honoured for his exemplary leadership, innovation and transformation in the petroleum downstream industry and his drive and professionalism in regulating the petroleum downstream sector.
At the same event, the Chairman of the Governing Board of the NPA, Mr. Joe Addo-Yobo, was also awarded the Public Sector Board Chairman for the Year 2022.
A member of the NPA Governing Board, Mr. Bernard Owusu, received the awards on behalf of Dr. Abdul-Hamid and Mr. Addo-Yobo at the ceremony themed, "Economic Sovereignty, Sustainable Corporate Governance, Digital Industrial Transformation: New Paths for Growth and Prosperity. A Private-Public Sector CEO Dialogue & Learning."
It is recalled that Dr. Abdul-Hamid emerged as the Public Sector CEO for the Year 2022 at the Ghana Business Awards.
Similarly, in 2021 the NPA Boss was awarded for his sterling leadership, business excellence, and professionalism at the Ghana CEO Excellence Awards.
Mr. Ernest De-Graft Egyir, said the awards were in recognition of the leadership, innovation and transformation exhibited by captains of industry in the public and private sectors.
Business development expert, Prof. Ayaz A. Shafi, urged businesses to review the way they operate in terms of structure and leadership.
He also tasked captains of industry to take advantage of emerging issues to grow and sustain their businesses, saying "it is a sure recipe for failure if you do not take advantage of emerging issues."
By Jamila Akweley Okertchiri
Read Full Story