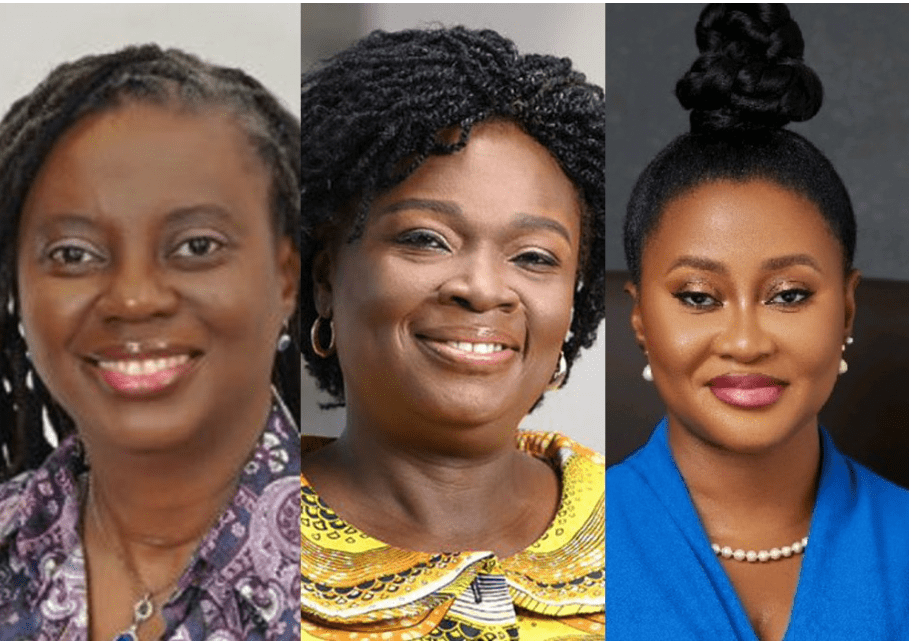 The Forbes award recognizes Africans who have made an impact on the continent and the world stage.
Forbes Afrique has recognized three accomplished Ghanaian women among the 2023 50 Most Influential Women in Africa.
According to its recent publication, the list honours women who contribute their expertise and leadership to the growth of their organizations, serve as inspirations for young women and possess economic or financial, political, and cultural clout to influence decisions across the continent and their respective countries.
The annual list features three remarkable women from Ghana, who have made significant strides in banking, mining, and technology and achieved international success in their respective fields.
They are Dr. Victoria Kwakwa, regional vice president for Eastern and Southern Africa at the World Bank, Angela Kyerematen-Jimoh, Africa strategic partnerships manager at Microsoft, and Georgette Barnes Sakyi-Addo, founder of Georgette Barnes Limited (GBL) and president of Women in Mining Ghana.
At the World Bank, Dr. Kwakwa is the current regional vice president for Eastern and Southern Africa (26 countries) where she oversees an active portfolio of 313 operations totaling $58 billion and an extensive program of cutting-edge analytic work, technical assistance, and policy advice.
Since joining the bank in 1989, she has worked in various capacities as the Vice President for East Asia and the Pacific from 2016 to 2021.
Georgette Barnes Sakyi-Addo (Jorjet Bans Sirchiado) is the founder and executive director of Georgette Barnes Ltd., a Ghanaian drilling and mining supplies company based in Accra, Ghana.
She was awarded the 2018 Female Entrepreneur of the Year by Invest in Africa (IIA).
She was selected as one of the 100 Global Inspirational Women in Mining by Women in Mining – UK in 2016.
She is the President of Women in Mining (WIM) Ghana and co-founder of the Accra Mining Network.
She was also the President of the Accra Mining Network from 2015 to 2020.
Barnes Sakyi-Addo holds a BA in French and Linguistics, and a Graduate Diploma in Communications from the University of Ghana.
In 2020 she was awarded an honorary DSc by the University of Mines and Technology.
Angela Kyerematen-Jimoh is a renowned business leader who has worked for Global and African blue-chip companies such as UBS Investment Bank, ABN AMRO, GT Bank, UBA, and IBM where she spent a decade of her career life.
She ended her tenor with IBM as the Regional Director for North East and West Africa responsible for managing 35 countries in this region. She is well known for scaling IBM's business in Africa.
She is currently the strategic partnership lead for Africa at Microsoft. Angela has lived and worked in many cities such as New York, London, Brussels, Lagos, and Nairobi, and is currently in Casablanca, Morocco.
Besides her professional accomplishments, Angela is also a philanthropist who has adopted Siti, a village in the Eastern Region, where she has provided them with solar-powered electricity and clean water.
She has served on many boards and currently sits on Ghana's central bank, the Bank of Ghana. Angela is an Alumna of Harvard Business School.
Ghana takes pride in these women who are making waves on a prestigious list in Africa as the world celebrates women.
Their accomplishments have been a great source of inspiration to many young women, reminding them that with hard work and determination, anything is attainable.
Their success in male-dominated industries like mining, banking, and technology is especially inspiring to young girls who aspire to follow in their footsteps. These women are exceptional role models who prove that perseverance and dedication can lead to extraordinary achievements.
Read Full Story