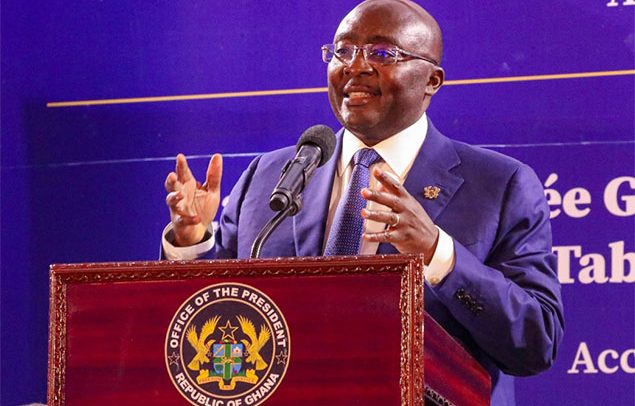 Vice President Mahamudu Bawumia
Vice President Bawumia has expressed extreme surprise at those questioning the prudence of the government's 'Gold for Oil' policy.
Even though the policy is said to have led to a stabilisation of the cedi against it major trading currencies and the prices of fuel, some Ghanaians including the New Patriotic Party (NPP) Member of Parliament for Assin Central, Kennedy Agyapong has criticised the policy, claiming it does not make sense.
But speaking at the commissioning of the new head office of the Bulk Oil Storage and Transport (BOST) in Accra yesterday, Vice President Bawumia wondered how and why anyone would question the logic.
"Some people say it will not work [because]; Ghana doesn't have enough gold," he said, whilst asking rhetorically "how can you say that?"
He could not help but ask "we've been mining this gold for 200 years, they keep taking it out and it cannot work for us?"
For him, "it doesn't make sense" for anyone to say the policy would not work, insisting "there are people who are very disappointed that it is [the gold for oil] is working," with a pot shot in tow that, "but bleeding is allowed."
He said such people have an impossibility mindset, and had this for such persons "you can keep to it but for us all things are possible by the grace of God.
"We were faced with a very critical situation because we did not have enough foreign exchange reserves to meet this persistent demand," he recalled whilst almost likening it to the current situation that exist in countries like Sri Lanka and Kenya.
In view of that, he said "we had to think outside the box, outside the textbook to see how do we prevent Ghana from getting to this situation where we are unable to buy fuel and unable to power our generating plants and so on which runs on fuel."
"This is where the thinking for the gold for oil came in; we had reach GH¢23 per litre for diesel at that time. So we said look we don't have foreign exchange that we can count on at the bank but what this country has is gold, and gold is foreign reserve asset and so we said that instead of waiting to export to earn foreign exchange to get the dollars, we can dig up the gold in Ghana…and therefore we don't need foreign exchange to go and buy oil directly.  We can use our cedis to buy the gold, transform it either directly as a barter or transform it into dollars to pay for the oil to be supplied," he explained.
By so doing, Dr Bawumia said "we are able to get a hold on this rampant increases in the price of fuel and also in the exchange rate."
He, therefore, noted with confidence, "my humble opinion; this is the most important macro-economic policy intervention to deal with the exchange rate depreciation, fuel, food price inflation mix that we have had," stressing "we have not only seen as a result of the policy a decline in prices from the GH¢23 per litre to around GH¢ per litre."
The Vice President insisted that "we have also seen price stability in the exchange rate as we predicted, and I must say all thanks should go to the Ministry of Energy, to BOST, to NPA, to the Bank of Ghana, Ministry of Lands and Natural Resources and the PMMC who rose up to the occasion when we faced this crisis of a rapidly depreciating currency along with rapidly pricing in fuel, transportation and food prices."
He also dropped a hint about the possibility of fuel pricing coming further down today.
According to Dr. Bawumia, this is but a remarkable feat, since about a month ago fuel was selling at GH¢23 per litre and now GH¢12 and still falling.
For him, "the most important aspect of the Gold for Oil policy is not just the reduction in fuel prices but the most important aspect is the savings in foreign exchange that the Bank of Ghana will make as a result of the lower demand for forex to import oil. That savings is huge."
"We have to understand; the prices of fuel will go up and come down, but what we expect to see under the Gold for Oil policy is more stability in the pricing and also savings in foreign exchange. There is more to come; this is the third month of the operation of the policy."
By Charles Takyi-Boadu
Read Full Story