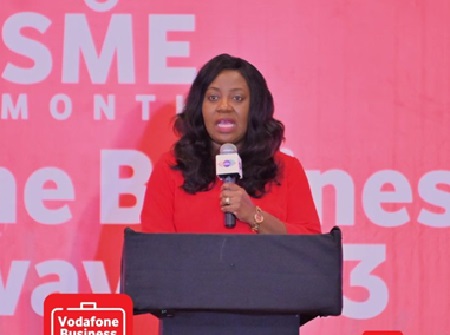 Patricia Obo-Nai
Vodafone Ghana, has urged Small, Medium Enterprises (SMEs) not to be satisfied with their current state of growth but strive for greatness given the ever-evolving business environment.
Speaking at the Vodafone Business Runway 2023 in Accra on the theme, "Good to Great with Vodafone: Innovate, Comply and Expand", Chief Executive of Vodafone Ghana, Patricia Obo-Nai, said businesses especially SMEs are required not only to be good but to be great in order to meet the needs of their stakeholders at all levels while in business.
She, however, stated that the quest for 'greatness' may therefore require them to appreciate the need to adopt various elements including innovation to achieve such an objective.
"Our theme encapsulates the belief that merely being good is no longer enough but to truly sustain greatness, businesses must focus on a number of elements," she said.
According to her, innovation does not only focus on emerging technologies but doing the same thing differently to be able to compete effectively to help reduce operational cost.
She indicated that though access to capital is key in any business venture, other elements such as complying with the requisite laws could help propel businesses particularly SMEs to greatness.
Director for Enterprise Business at Vodafone Ghana, Tawa Bolarin, said the theme resonates with most sustainable businesses that do not only do well but later transition into greatness.
She added, "one business product launched in line with the Vodafone SME month is expected to provide a single solution that can allow them to communicate and remain digitally inclusive".
A lecturer at the University of Ghana Law School, Dr. Ali Nakyea asked SMEs to be compliant while sharing some benefits that were available to them including tax reliefs once they remain compliant.
ECOBANK Regional Head, Commercial Banking, Anglophone West Africa, Charlotte Amankwa, who spoke on 'sustainable finance' also advised  SMEs to take advantage of the opportunities available in the business environment and collaborate with other players in the industry to scale up their businesses while considering other sources of funding.
By Ebenezer K. Amponsah
Read Full Story